The year is ending but the trends are just arriving. If you love fashion, this post is for you. Because we are going to tell you about the best fashion trends for 2020. Trust me, you're going to love this. These trends are going to be everywhere, in street style and on the red carpet. And if you're not a fashion addicted, don't worry. This post is also for you. We are not only going to tell you about the fashion trends for 2020. But we are also going to show you where to buy them. So, stay tuned and get ready for 2020!
Puffed Sleeves
You already know puffed sleeves. They were a fashion trend in the past but now they are totally back. Some divas like Lizzo and Kendall Jenner are among the celebrities that love puffed sleeves. And they rock it! You can enjoy puffed sleeves in dresses or blouses. It doesn't matter. The only rule is to have fun! So, to show you how incredible this trend is, take a look at this Prairie Moire Dress from Marc Jacobs. This amazing dress has long puffed sleeves, A-line silhouette and also has a structured moiré-effect fabric. The best part is that you can shop this incredible dress at Neiman Marcus with UP TO 16% Turbo Cash Back.
Neon Colors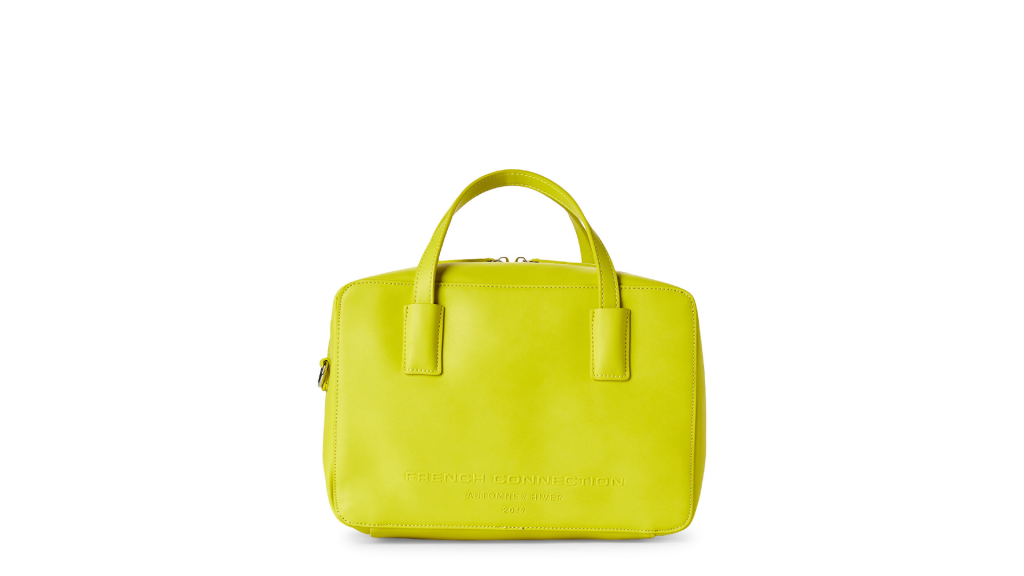 If you like soft and discrete colors,  I'm afraid this next trend is going to shock you a little bit. But don't worry. You're going to survive. Many stylish and even some celebrities are already wearing extremely bright colors in their looks. The thing is, you better get ready to see a lot of neon and bright colors in 2020. The actress Jameela Jamil recently wore a very bright neon look with matching eyeliner. But you don't have to be so bright if you don't like it. Take a look at this Neon Yellow Wynn Small Satchel available at Century 21. You can wear it on a neon look or this could be the one and only neon spot in your outfit. It's up to you. The best part is that for a limited time you can shop this neon bag with 54% OFF.
Leather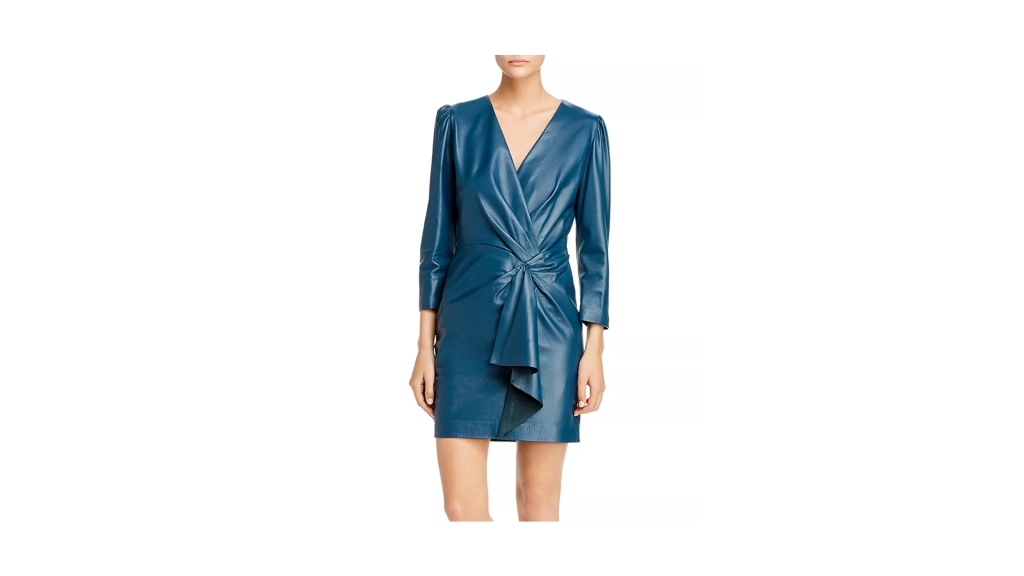 You already know that leather is a fashion trend. And in 2020 this won't be different. If you are used to using leather only in jackets, it's time to change that! This trend is going to be on dresses, skirts, coats, shorts…you name it. Not to mention that leather is coming in a wide range of colors. And if you are vegan, don't worry. We got you covered. Take a look at this amazing Vegan Leather Dress from Rebecca Taylor available at Bloomingdale's. You can shop it with UP TO 13% Turbo Cash Back. Gotta have it!
Fringes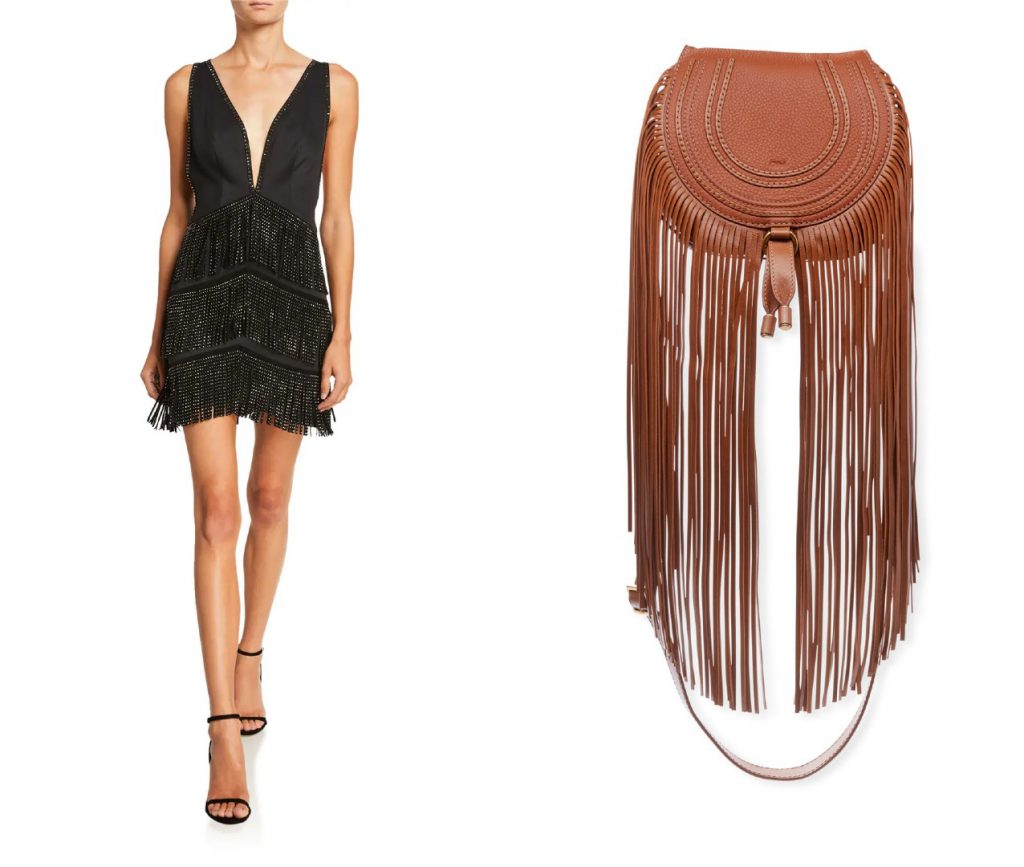 London Fashion Week was the leaving proof that fringe is definitely going to be a trend in 2020. Get ready to see fringes everywhere. From dresses to handbags and even shoes. So, take a look at this gorgeous Beaded Fringe Deep V-Neck Sleeveless Mini Cocktail Dress from SHO. It has a deep V-neckline and A-line silhouette. And of course, a lot of fringes. And there is more. We also separated this amazing Marcie Small Crossbody Fringe Bag from Chloe to show you how this trend is definitely happening. The best part is that the dress and the bag are available at Neiman Marcus with free shipping.
Ruffles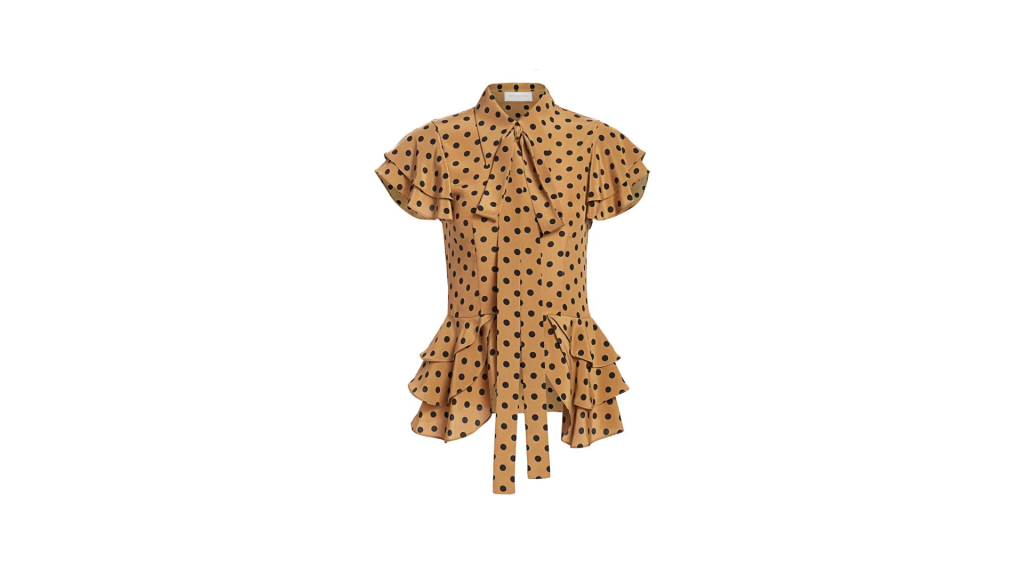 I'm sure you already thought your mother's dress in the '80s was funny. But you better watch out because ruffles are back. Buy now you should know that the '80s vibes are totally back in 2020. So, make sure to take your vintage outfits from your closet. But if you need new clothes, take a look at this Polka Dot Peplum Ruffled Blouse from Michael Kors Collection, available at Saks Fifth Avenue. The best part is that polka-dot prints are also a trend for 2020. So, we have to agree that, in terms of trends, this blouse is practically 2 for 1. 
Booties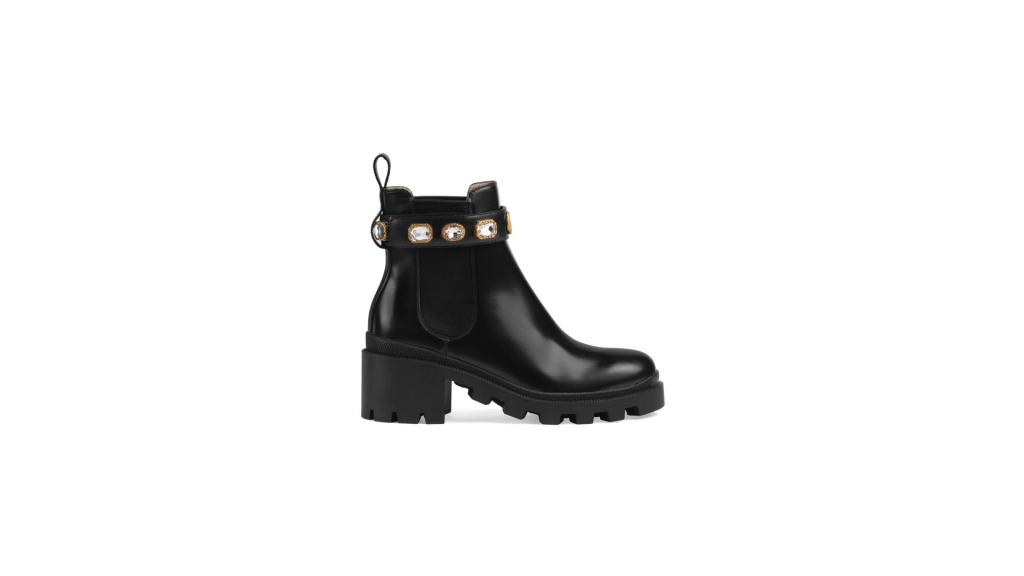 Booties are always on. But get ready to see a lot of them in 2020. They made a huge success in 2019, especially in animal print. But in 2020 the most wanted boots are going to be combat boots, ankle booties,  and plain boots. Take a look at this gorgeous Trip Bootie with Jewels from Gucci. This amazing Italian bootie has a block heel, a slip-on style and detachable ankle belt with crystals and Double G. Also, it's available at Saks Fifth Avenue with UP TO 8% Turbo Cash Back.
Amazing trends, right? And it's possible to buy all your favorites items for 2020 and have your money back. It's really simple. You just have to buy at your favorite stores like Neiman Marcus, Saks Fifth Avenue, and many more through Lemoney. So, make sure you're ready for the new year and if you don't, it's still time to enjoy coupons and deals and buy all the fashion trends items for 2020 right now. And with cash back. Enjoy!