Here is a fact: organizing family information and documents is no easy task. But do not worry, Trustworthy is here to help you! Trustworthy is a Family Operating System® that handles all your important family information –  ID's, Money, Property, Passwords, Insurance, Taxes, Legal, Emergency Instructions and the Family Archive.
Trustworthy is the easiest way to protect, organize, and optimize your family's information, from financial and medical documents to IDs and vaccine cards. All in one place, at the palm of your hand.  
With Trustworthy you can also:
Organize and share family passwords.
Catalog valuables for insurance purposes.
Document financial accounts and investments.
Receive auto-reminders to keep things up-to-date.
Secure estate and legal documents.
Invite family members and trusted advisors.
Safely store tax returns.
And much more!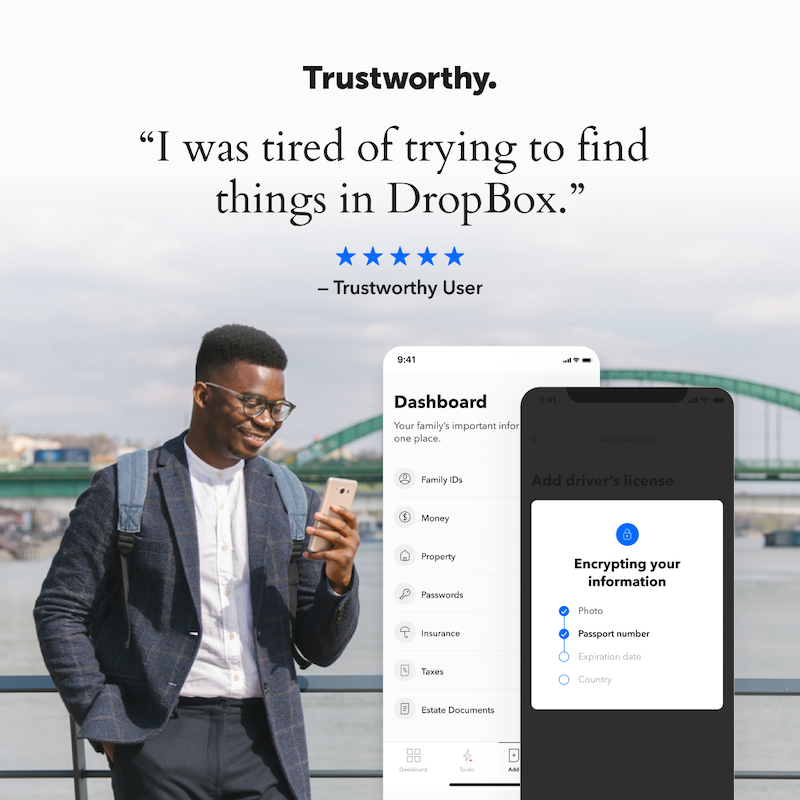 And of course, all that information is safe thanks to Trustworthy bank-level security with two-factor authentication. 
Times have changed and with digital transformation impacting all of us, having access to our important information when we need it in a digital form is essential. With Trustworthy, you can have easy access to important information. All in one place, on hand, safe and organized. 
One of the Trustworthy goals is to keep your loved ones prepared for the future. With the Emergency Planning category, you can write letters to your family and create documents such as instructions for the babysitter or an evacuation plan. 
Trustworthy is the leading  provider of family information management and the most secure with SOC2 and HIPAA compliant certifications. Learn more about the Family Operating System® and how it can help your family be better organized and prepared for all of life's moments.