Lancome is having an amazing purchase event where you can have amazing Lancome essentials for free with your $60 purchase. Enjoy this 7-piece gift by just selecting your favorites items available at the Lancome gift event. To help you with that, we will give you some amazing information about the products available at the Gift With Purchase Event. Check this out!
Moisturizing Trio
During the 7-piece gift with your $60+ purchase from Lancome, you can choose your day and eye cream among the options below and receive a Miel-en-Mousse Acacia Honey cleanser.
Visionnaire Day & Eye Cream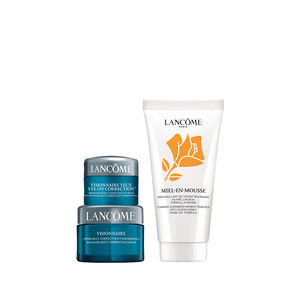 Among the options, there is the amazing Visionnaire Day Cream. This cream gives your skin comfort and keeps it hydrated for 24 hours. The formula locks in moisture for 24 hours while visibly plumping and softening skin and boosting luminosity and bounce. Not to mention the advanced multi-correction benefit. In addition, this day cream has SPF 20 that protects your skin against damage caused by the sun. In addition, the Visionnaire Eye Cream is focused on the eye imperfections, giving you a more uniform look, with fewer expression lines and wrinkles. 
Rénergie Lift Multi-Action Day & Eye Cream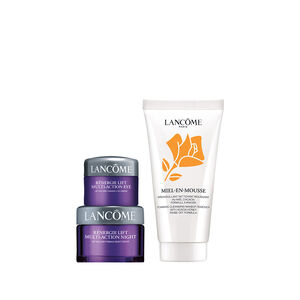 Lancome Rénergie Lift Multi-Action Day Cream will firmer your skin in just one week. So, if you don't have time to wait, this day cream is for you. Its powerful formula lifts and tightens the skin, giving you a more refined and soft look. The best part about this cream is that it was created to minimize signs of aging, helping you to get rid of sagging and wrinkles. Not to mention that the SPF 15 provides protection against sun damage. 
To complete your moisturize trio, there's Rénergie Lift Multi-Action Eye Cream. Designed with caffeine and hyaluronic acid, this one is focused on lifting and firming the eye areas. So, if wrinkles and eye dark circles are a problem, it's time to say good-bye to them with this lifting and firming cream. 
Absolue Premium Bx Day & Eye Cream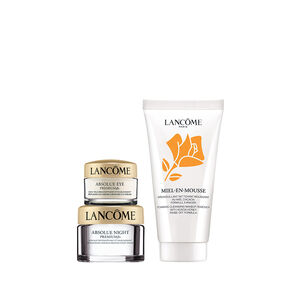 If you like to wear makeup during the day, Absolue Premium Bx Day Cream with SPF is a great cream option. That's because it's perfect to wear under makeup, due to its velvety and smooth texture. Not to mention that it's really fast-absorbing. Its unique formula gives you a firm look, bringing back the elasticity to your skin. You can combine this day cream with the Absolue Eye Premium Replenishing and Rejuvenating Cream. This eye cream is perfect to improve firmness and luminosity of eyes area in just 4 weeks. Just amazing! 
Choose Your Mascara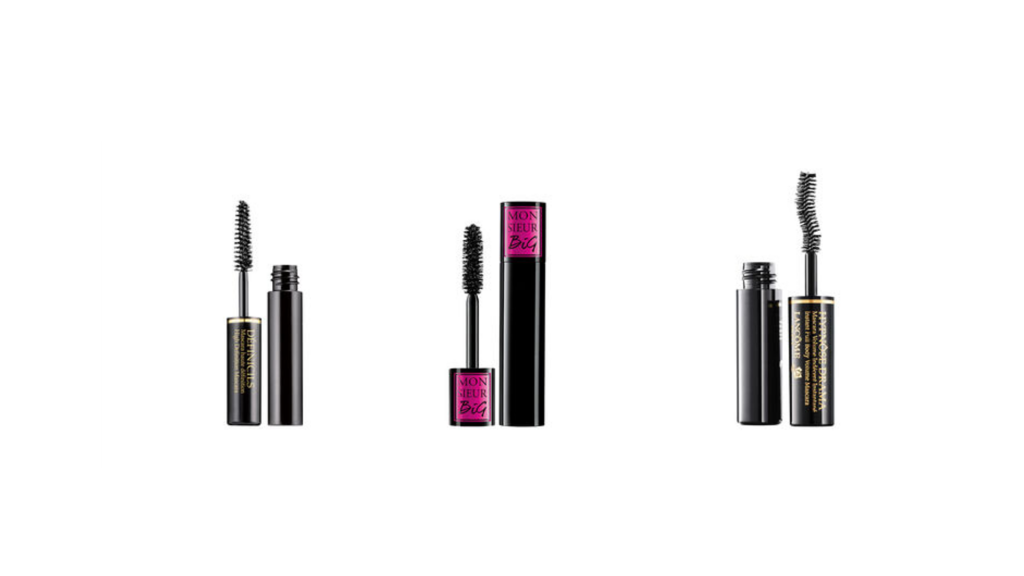 The best selling mascaras are available at Lancome special purchase event. You can choose the amazing Définicils Mascara for natural but noticeable lashes. Or, if you like your lashes with big volume, Monsieur Big Mascara is perfect for you. But, if a dramatic look is all you really care about, Hypnôse Drama has to be your choice.
Pick Your Lip And Eye Duo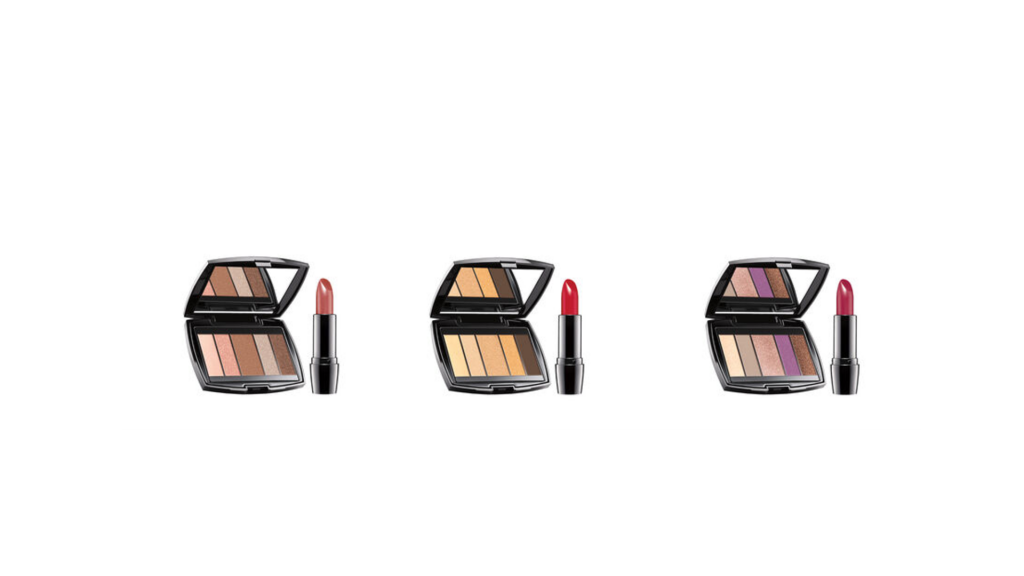 Now it's time for your lips and eyes. Pop of Color Duo, Daytime Coral Duo, and Classic Essentials Duo are among the options. If you like a more soft look for makeup during the day, the Daytime Coral is just perfect. But if you like to use a more colorful and sexy makeup, there is a must-have red lipstick waiting for you with Classic Essentials.
Spend An Additional $35 To Receive More Luxe Essentials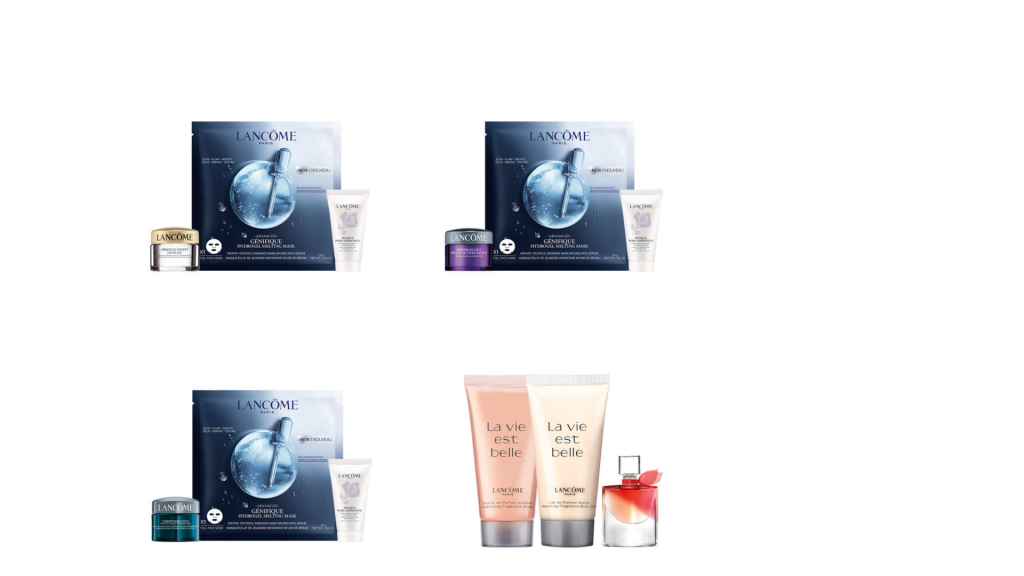 You can enjoy even more your 7-piece gift with your $60+ purchase. That's because you can spend an additional $35 to receive more luxe essentials. Choose between a Beauty Sleep Perfecting Night Trio, that comes with Visionnaire Gel-to-Oil Night Moisturizer, Genifique Face Mask and Pure Empreinte Mineral Clay Mask. But if you prefer the Absolue Premium Bix Night Cream, the Luxury Night Care Trio is perfect for you. Not to mention that the trio with Rénergie Lift Multi-Action Night Cream is also an option. In addition, another option of Trio is the La Vie Est Belle Trio, containing the shower gel, body lotion, and the amazing Rose Eau de Parfum. 
If you like this Lancome deal, hurry up because you can only have a 7-piece gift with your $60+ purchase for a limited time. So, make sure to click here and choose your favorites products. In addition, if you buy at Lancome through Lemoney you receive UP TO 23% Turbo Cash Back. Just enjoy!