Get your house ready for Fall at Bed Bath and Beyond. There are many festive dates in this season, so why not getting your home a nice comfy look for this time of the year? It's easy and simple to decorate your home with cheap elements that will definitely give your living room and dining room an autumn atmosphere. To illustrate, we listed 5 decor trends to upgrade your home this fall, such as candles, rugs and a pre-lit tree.
48-Inch Pre-Lit LED Maple Leaf Tree with Orange Leaves ($34.99)
Maple leaves are fall special symbol, and this may be hard not to get your entire home filled with these. So, this 48- inch LED maple tree is a great item to get in your living room. It will surely match every Thanksgiving or Halloween decoration you put it with. Can you imagine your tree decorated with some flowers or maybe spider webs all over it?
Serene Leaves Table Runner ($14.99 – $39.99)
Serene leaves table runner is a must-have fall decoration item. Keep this in your dining table for the perfect fall touch in your home. You can get this in any size you prefer 36', 54', 72, 90, 108 or 120. As shown, there is a variety of sizes to make every table look colored and festive. It can only get better with an incredible dish on it, right? Your table only won't be better than the wonderful dishes that will be served on it.

Bee and Willow™ Home "Thankful" 20″ x 34″ Tufted Accent Rug ($12.99)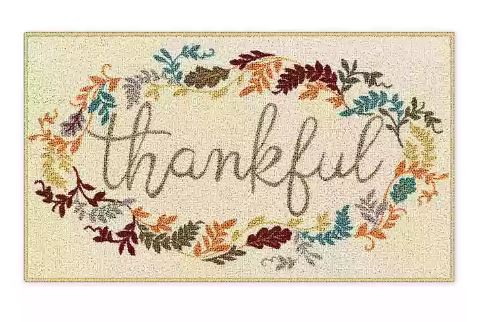 Your home deserves a welcoming rug and you can choose your favorite one at Bee and Willow Home Fall Harvest Accent Rug Collection. In this, you can find not only pumpkins but also the cutest sayings. And there's no doubt that this will make your guests feel at home. So, if you are looking for a new inspiring rug, don't forget to check this collection at Bed Bath and Beyond.
Happy Fall Y'all 17-Inch x 9.5-Inch Wood Wall Tag ($27.99)
With Happy Fall Y'all Wood Wall Tag you can add your family touch to your fall decoration. And it's simple: first choose the color you want in your tag that can be beige, brown or orange. After that, write the name of your family or anything you want to put in your tag. Now, just wait for it to come to your house and place it in the right spot.

Yankee Candle Housewarmer Autumn Wreath™ Scented Candles ($1.99 – $21.99)
Lavender, roses, vanilla and many more: Bed Bath and Beyond has candles that will definitely upgrade your home at any time of the year. However, with over 600 5 stars at Bed Bath and Beyond, Autumn Wreath is the perfect scented candle for the fall season. So, if you want a warm and inviting feeling at home, this is the right choice. Get this and always feel an incredible welcome home scent.
That's the right moment to upgrade your home with the best items from Bed Bath and Beyond. So, get yours right now and be ready either for the spooky season or the holidays. Also, remember: get UP TO 14% of your money back when you make the purchase through Lemoney.