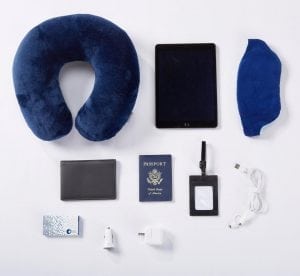 We all know somebody who loves being on the road. That friend who is always planning to go on a trip – or who seems to be permanently on vacations and brings to our Instagram feeds awesome photos in breathtaking places, doing amazing things. I'm sure a name just popped into your mind!
It's not always easy to gift them. They usually don't care too much about brands or expensive stuff – because they enjoy spending with moments, not things! So, why not make their journeys either more comfortable and memorable? Here are a few gift ideas your wanderlust friends will love (and use a lot on the journey)!
1. Travel Pillow
Trying to rest on the plane can be an impossible task when you're in the Economy Class. Travel lovers will thank you for a travel pillow that provides them the right support for some hours of sleep. You can find different types on Brookstone.
2. Combination padlock
Here is something that every traveler should take with them when heading off on a trip. Combination padlocks are the most effective way of keeping your valuable items safe in multiple situations, like on a bag or suitcase during transit; to secure a locker or wardrobe when in a hotel; or even to keep a day pack safely fastened. There are some different kinds of padlocks available with discounts on Best Buy!
3. Portable Cell Phone Power Bank
When traveling, you probably use your cell phone a lot. Mostly for taking pictures, filming and trying to discover where you are and where to go with Google Maps, right? So, a portable cell phone power bank is a must-have piece of tech on a trip (search for the best-sellings on Best Buy and Newegg). It's a useful item even when you're back home. Who never runs out of battery in the middle of the day?
4. Selfie Stick
Still talking about cell phones: if your friend is that person who loves to travel by himself, it can be a problem taking pictures. Whether you love them or hate them, selfie stickers are a convenient tool for travelers, allowing them to take shots of themselves in the dreamy locations they visit without having to bother anybody. You can find some cheap options on Walmart!
5. E-reader
Vacations can provide different opportunities for settling down with a good book, from delayed flights to resting on a paradisiac beach, under the shade of a tree. To save space on the luggage, E-readers are the perfect solution! Get to know NOOK, the Barnes & Nobles' E-Reader.