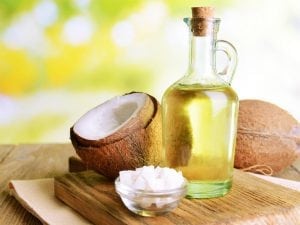 There are thousands of recent researches proving coconut oil to be one of the healthiest foods on the planet.
According to medical research, coconut oil can help you get a healthier life. Check the benefits below, and get amazed (just like I got) with how it can improve your well-being:
1. Natural treatment for Alzheimer disease
Coconut oil is a heart-healthy oil that is free of cholesterol and trans-fats and provides many benefits in addition to improving brain health. A recent University of Oxford study suggested that although the effects of coconut oil may be temporary, Alzheimer's and dementia patients have indeed seen short-term benefits resulting from its use. How cool is that?
2. Prevents heart disease and High blood pressure
Coconut oil is high in natural saturated fats which increase the healthy cholesterol in your body, and also help to convert "bad" cholesterol into good cholesterol. It helps promote heart health and lower the risk of heart disease.
3. Helps combat cancer
There (have been) is a good number of natural remedies and foods (that have been) linked to prevention of cancer, but there have not been many studies, which show that these remedies kill cancer cells for real.
However, a recent study published in the Journal Cancer Research showed that Lauric acid, an active anti-cancer component, can be highly found in coconut oil.
Coconut oil has also be shown to decrease the toxic and often devastating side effects of chemotherapy.
4. Good to boost your immune system
Coconut oil components are of great help to reduce candida, fight bacteria, and create a hostile environment for viruses.
You can try to replace sugar in your diet with coconut oil, since sugar feeds the growth of bad bacteria and coconut oil does just the opposite.
5. Helps to Improve memory
The good fat found in coconut oil has been linked to memory problems improvement.
People that included this oil in their diet has shown improvement in their recall ability. Coconut oil is easily absorbed by the body and is a more efficient fuel for brain cells.
6. For Weight Loss
It helps to burn fat, decrease appetite and it was especially helpful in losing belly fat!
It might seem counterintuitive to assume that eating coconut oil (a fat) will contribute to fat loss, but it is actually what happens. The good fat present in coconut oil helps to control a variety of physiological processes including thyroid function improvement, which assists your body in burning fat for energy.
7. Coconut Oil for Hair Care
If you have dandruff or dry hair coconut oil has the perfect fatty acids to help get rid of these conditions. You can make coconut lavender shampoo (learn more at http://www.stylecraze.com/articles/homemade-coconut-oil-shampoo-recipes-for-beautiful-hair/#gref) to improve the health of your hair and can also use straight coconut oil as an all-natural hair conditioner.
I am no health specialist, and Lemoney's main virtue is helping you save and earn money on your day to day purchases…
Grab your PLNT coconut oil with 15% OFF + 4.5% cash back at Vitamin Shoppe and save some bucks while taking care of your health 😉