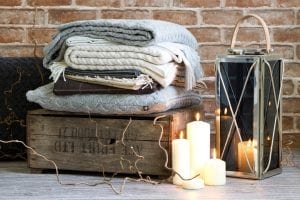 image: Pinterest
Have you been reading this word recently and have no idea what this means? Hygge is, first of all, a Scandinavian term for wellbeing. Though many countries are showing higher levels of stress, Scandinavian are moving in the opposite direction – what puts them on the top of the happiest people on Earth list. A big part of this wellbeing is connected to their Hygge way of life.
If you try to translate it, you will probably find something like "coziness" or "togetherness", but as long as this term has no literal translation, it's pretty difficult to pinpoint the exactly meaning. Hygge is mostly the feeling of creating intimacy at any moment you're living in.
You can hygge alone or around people, it just depends on you. Maybe tasting that good wine by yourself or surrounded by friends on a dinner table. You can even hygge your home and hygge your lifestyle.
With a better understanding of this term, even places can be described as hygge. Wanna know how? Below are 3 tips to make your place as hyggeligt (hygge-like) as possible:
1. Light some candles
It may look like a simple detail at first, but candles give a touch of peace and joy to the room, especially if they're scented. The gentle candlelight makes your mind able to think deeper – while the scent makes you feel positive emotions (and it's usually effective for a better sleep)!
2. Add Texture
Think about a warming and cozy place: soft textures add another dimension to any room, building a relaxing and peaceful environment. The best textures for a hygge house are chunky knit cushions, faux fur throws, and fluffy woolen rugs. Made from soft materials from merino wool to cashmere, these accessories are top-of-mind when it's about interior design. Choosing the right colors – that bring the feeling of relaxation (no loud colors, ok?) – it's possible to create a stylish look in any room and also get all the comfort you've been looking for.
3. Keep It Simple
Scandinavian design is usually very peaceful and doesn't match the electric color scheme very well. As the main goal is to free the mind and cozy up, keep it simple. If you still don't know which colors to pick, choose a light tone and stick to the monochromatic. Play with textures and shapes, maintaining a calm and cozy environment.
See? It's super easy to create a hygge space – and better: on a budget! Check Lemoney stores and get deals on amazing products for a hygge new you!